The latest news on medical marijuana is not good news for the thousands of Georgians with HIV or AIDS. Gone from HB-1 also known as Haleigh's Hope Act are:  Glaucoma, AIDS, ALS, Alzheimer's disease, Muscle spasticity disorder, PTSD, Autism, Sickle cell anemia, Tourette syndrome, A terminal illness that involves severe pain, nausea or wasting.
People with any of these conditions will not be allowed to get a doctor's prescription under the revised bill. The loss of even one of these illnesses from the approved list is devastating, but to have so many removed from the list simply because the Georgia Sheriffs and Georgia Prosecutors complained is absolutely tragic and heart wrenching. But it goes much deeper than that…
Certainly people with epileptic seizures and fibromyalgia and all the other approved illnesses deserve to have medical marijuana. But so do all the people with illnesses that were removed earlier today. I heard no apologies by Allen Peake or anyone else in that committee that voted unanimously for the revised version of HB-1 to the people they just left in the cold. In fact all I saw was a lot of grandstanding and glad-handing in celebration with no mention at all of the people who just got abandoned by the people that are supposed to help them.
The CDC estimates of the 47,500 new infections Nearly two thirds of these new infections occurred in gay and bisexual men. Black/African American men and women were also highly affected and were estimated to have an HIV incidence rate that was almost 8 times as high as the incidence rate among whites. Visit the HIV incidence page for more details.
I strongly believe that the strong undercurrent of both racism and homophobia among many id not most GOP power brokers in the Gold Dome in Atlanta was behind the decision to remove HIV/AIDS and Sickle cell anemia from the list of approved conditions in the medical marijuana meeting held earlier today. It was not so long ago many of these same people were claiming AIDS was a punishment sent down from God. Now that it is no longer acceptable to express such idiotic comments out loud, they have decided to do the next best thing and prevent gay and black Georgians with HIV perhaps the one thing that can offer a small bit of relief.
Racism and Homophobia Alive and Well in the Peach State
Jody Hice — who believes there's a gay plot to recruit and sodomize children easily won his race. Rep. Phil Gingrey (R-GA) attacked former Secretary of State Karen Handel, one of Gingrey's opponents in the Republican Senate primary, for "youth pride that promotes teenage homosexuality."
And what are Nathan Deal's personal views on voting rights? Here's what he said about discriminatory voter-ID laws. He used the term ghetto grandmothers. Governor Nathan Deal also made headlines by refusing to condemn "whites only" proms.
His wife can tell by looking at her students which ones are going to prison and which ones are going to college, "My wife tells me she could look at her sixth grade class and tell ya' which ones are going to prison and which ones are going to college." As a white southerner, I can tell you in no uncertain terms it's white person code for the slaves are acting up again.
Don't forget that Deal was also a "birther" sand signed a letter asking for the birth certificate of Obama. Even after it was released he continued to refuse and answer questions whether he thought Obama was born in Hawaii or Kenya.
If anyone thinks there isn't a very strong and pernicious undercurrent of extreme racism and homophobia among many of the Republican base and politicians in Georgia you are either blind, deaf, and dumb or in denial. You don't have to look far for many other examples or simply ask them  in person.
The entire push by so-called "religious freedom" from homophobic Senator Jabba the Hutt Josh McKoon was nothing more than a chess move to get ahead of the Supreme Court decision in a few months that will legalize same sex marriage. McKoon is hoping he can legislate some hate prior to that decision so his base can continue to discriminate without fear of being sued.
Disproportionately High Among  Gay African-American Men in Georgia
HIV
"The GLBC has taken a special interest in working with public health, HIV advocates, and members of the black and LGBT communities to address the sexual health disparities in our state," said GLBC Chair and State Rep. Dee Dawkins-Haigler (D-Lithonia) in a press release.
"Georgia and Metro Atlanta continue to rank at the top of the list in the U.S. for new cases of HIV and other STDs and it's long overdue for state legislators to engage with our public health and community leaders working daily to end these disparities, so we can determine how we as state leaders can best aide their prevention efforts," she added.
There's no denying the staggering effect HIV/AIDS has had on the Atlanta and Georgia population, especially the black gay and bisexual men:
• Georgia ranks fifth in the U.S. for new cases of HIV and No. 1 for primary and secondary syphilis.
• A recent Emory study shows that 12 percent of young black gay men in Atlanta are contracting HIV annually, meaning an 18-year old sexually active black gay man has a 60 percent chance of contracting HIV by the time he is 30.
• Young, black gay and bisexual men experienced a 48 percent increase in new HIV infections from 2006 through 2009, according to the Centers for Disease Control & Prevention.
• The Atlanta-based CDC determined figures that show that in 2006, there were 4,400 HIV infections among black gay and bisexual men ages 13-29. The numbers jumped to 6,500 infections in 2009 within the same age group. This subpopulation represents the only subpopulation in the U.S. to experience a statistically significant increase during these three years.
The increase among black men who have sex with men (MSM) ages 13-29 may be attributed to several factors, according to the CDC:
• higher proportions of young, black MSM are unaware of their infection than MSM of other racial/ethnic groups
• stigma of HIV and homosexuality, which can hinder utilization of HIV prevention services
• limited access to health care, HIV testing and treatment; increased likelihood of having older sexual partners (who are more likely to be HIV infected), compared to MSM of other racial/ethnic groups
• higher rates of some sexually transmitted diseases among young black men, which can facilitate HIV transmission
• under-estimating personal risk for HIV
Marijuana is Efficacious in treatment of HIV/AIDS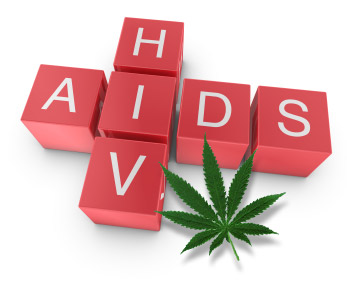 Researchers have known for decades that marijuana can provide an enormous benefit to patients suffering from HIV/AIDS because of its ability to stimulate the appetite and prevent weight loss. However, a new study finds that this magical herb may do more than just give patients the munchies, but it may actually tackle the disease at its core.
An analysis published last week in the journal AIDS Researcher and Human Retroviruses by a team of researchers at Louisiana State University indicates that a daily regimen of THC may have a significant impact on the progression of HIV.
Researchers say that after delivering a daily dose of THC to monkeys for a period of 17-months, the diseased primates displayed a decrease in damaged immune tissue in the stomach — a common spot for the infection to occur.
"It adds to the picture and it builds a little bit more information around the potential mechanisms that might be playing a role in the modulation of the infection," says lead researcher Dr. Patricia Molina, head of the school's Department of Physiology.
These findings are consistent with a 2011 study led by Dr. Molina that points toward monkeys being treated with THC experiencing an overall reduction in infection, as well as improved chances for survival.
At the time, these were unexpected results, clarifies Dr. Molina.
"When we started the study, we thought it was going to increase viral load, we thought it was going to decrease lymphocyte counts much more dramatically, and we did not see that. If anything, it looks like there might be some beneficial immunomodulation, particularly at the early stages of infection."
For years, there has been much skepticism about the use of marijuana in patients with HIV/AIDS. This is mostly due to speculation that cannabinoids put constraints on the function of the immune system.
Yet, medical experts say they are now enthusiastic to learn more about how marijuana, specifically its effect on the CB2 receptor, can be used as a life saving treatment for those suffering with HIV/AIDS.
Pain Relief
For some HIV patients, their daily regimen includes taking handfuls of pills that they hope will regulate the pain that they have. Many of these prescription drugs include opiates that can be harmful on certain organs in the body. Furthermore, while these prescription drugs may help with some symptoms, they don't seem to be as helpful as marijuana as a substitute.
Ronald J. Ellis, M.D., Ph.D. is a neuroscience professor at the University of California San Diego School of Medicine. Dr. Ellis looked into 28 patients who were using prescriptions, typically opiates, as pain relief medication and their results. His findings found that there was a 30 percent decrease in pain for those smoking marijuana, instead of those smoking a placebo. When the marijuana was combined with the prescription medication, the benefits for pain reduction were even greater.
Improved Immune Function
There are plenty of jokes going around about getting the munchies after smoking marijuana. However, this stereotype may not be such a bad thing for patients who are suffering with HIV. Referring back to the medications listed in the previous section of this content, many of those drugs have negative effects on eating habits and the hunger of HIV patients. Furthermore, the immune system as a whole is weaker with HIV, therefore making it harder to gain and maintain healthy weight.
Lynn Zimmer, Ph. D. is the doctor and author behind Marijuana Myths, Marijuana Facts, a book that looks into common misperceptions about using cannabis for medical purposes. When his studies looked into the effects of marijuana on HIV patients, he found that marijuana did not seem to be unsafe in HIV patients, especially in CD4 and CD8 cell counts. These RNA levels allowed the patients to gain, on average, four or more pounds in their clinical tests.
Positive Outlook
Finding out that you are HIV positive is probably something that you can only comprehend the pain when it actually happens to you. Having to change your entire lifestyle, starting new medical treatments and telling those around you are all tasks that are never easy and can lead to plenty of frustration and even depression. While marijuana cannot permanently cure all of the problems, it should also be said that marijuana can have positive effects on a persons mood and outlook on things. Cannabis is a major industry now and has been created, tested and delivered in a variety of different ways. Even if you do not want to smoke, you can find edible cannabis. And you can also find cannabis that will affect your mood depending on the type of high that you are looking for with either a sativa or an indica blend. Instead of the numbing and dulling effects of opiates and other drugs, marijuana can give new life to an HIV patient.


Marijuana has gone through years of debatable reform. But as research becomes more advanced and scientist look more into the effects, cannabis is proving to be a life saving plant, instead of a delinquent inhibiting drug. If you are an HIV patient who is not completely satisfied with your current medical prescriptions, consider adding marijuana to your regimine.
Final Thoughts
Even with all the research, scientific data, and reports from thousands of HIV patients who have reported how much marijuana helps, that means squat in the Peach state. Nathan Deal, the Georgia Sheriffs and Prosecutors, along with some spineless GOP legislators don't care about facts or pesky science.
According to Terry Norris, Executive Director of the Georgia Sheriffs Association, allowing anyone other than seizure patients to have access to marijuana oil is an unacceptable "expanded use" of the drug that he doesn't believe should be condoned. He argues that allowing cancer patients, those suffering from Alzheimer's and patients diagnosed with PTSD (to name a few conditions) to consume this non-euphoric medicine would be a big step toward recreational marijuana legalization.
And there you have it. He doesn't BELIEVE it should be condoned. The Georgia Sheriffs and Prosecutors should worry about enforcing the law and stop lobbying to make the laws. I hope all the voters will remember these pricks in 2016 when it is time to vote again. Any Sheriff or Prosecutor who advocated against bringing possible relief to desperately ill people based off a gut feeling or belief needs to be removed from office.
I know that today a lot of very desperate Georgians are praying that Senator Curt Thompson (D) can pull out a miracle and get his Senate bill  passed instead of this joke the Republicans are patting themselves on the back about today. With a Republican controlled House and Senate and Nathan Deal as Governor that will be a tall order. But at the very least I hope this article opens up the eyes to people who have been lauding the legislators behind HB-1 as saints when there are so many sinners in their midst.
Edit: Around 12 hours after I published this article there was an amendment to add Sickle cell back into HB-1. HB-1 was just passed by a vote of 157-2. Let's hope the Senate can restore all these dropped conditions still remaining : Glaucoma, AIDS, ALS, Alzheimer's disease, Muscle spasticity disorder, PTSD, Autism, Tourette syndrome, A terminal illness that involves severe pain, nausea or wasting.
These people need help as well and there is no reason that they were removed other than the Georgia Sheriffs and prosecutors having a gut feeling it might lead to recreational use which is insane. It is a low THC oil. Cutting off sick people based on a gut feeling is not an acceptable compromise anyone should feel comfortable about.